A Bucket Test is the best way to determine if your pool is actually leaking.  If you suspect your pool may have a leak, here are some questions and factors you should consider to determine your suspicions.
If you are adding in excess of 1 1/2 inches of water to your pool a week, you should test your suspicions with an evaporation or bucket test.
If you are having a problem balancing chemicals due to adding fresh water continually you probably have a leak.
Don't worry, your suspicions can actually be confirmed with a simple 24 hr. bucket test. Just follow the directions we have provided below and then once the test is complete you can rely on our experts at On The Spot Ultrasonic Leak Detection & Repair to solve your pool leak problems.
Fill a 5 gallon bucket 3 inches from the top of the inside of the bucket.
Fill your pool to the middle of the tile line or just below your over flow.
Place the bucket on the first step of the pool. Make sure the water level is higher on the inside of the bucket to prevent the bucket from floating away.
Mark the bucket on both the inside and the outside of the bucket to indicate water level. Keep in mind that the test should be ran in its normal cycle.
When checking the levels, if the difference on the outside is greater than the inside you have a leak.
Some Factors Which May Affect Your Bucket Test Results Include:
Overfilling – Overfilling the pool can result in unnecessary damage to the ground under the deck or pavers. Skimmers do not have a watertight seal on the top and the water can seep through that space. Some pools are equipped to automatically drain and self-adjust to the normal level (mid skimmer) when overfilled.
Rain – Rain will also produce the same results as overfilling. Do not begin your monitoring process until your water is at the normal level (mid Skimmer). You should not take your measurement unless you have a rain-free 24 hour period.
Both a rainy day and overfilling will produce false test results. Make sure that both factors have been taken under consideration before determining a final outcome of your test.
Below we have also included some helpful tips that will assist you to keep your pool in its top operational state and reduce the cost of your operating expense.
Be sure to perform leak detection test on a regular basis. A leak in the pool can waste up to 1,000 gallons of water per day and raise your water bill significantly.
Be sure to monitor your automatic filler. If it is not operating efficiently, your money is just going down the drain.
Be sure to keep track of the amount of chemicals you are using. If you are using more chemicals to compensate for fresh water, you may have a leak.
A pool cover or solar blanket will also reduce heating costs.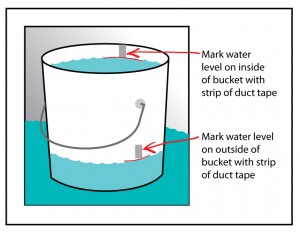 Relax and We'll Take Care of Your Pool
When it comes to leak detection, repairs, and remodeling,
you can depend on the professionals at On the Spot!
Excellent company to use for leak detection and on the spot repairs.They are very efficient and know their job very well. Candy and Casey did a spot on good job of setting up a time when repairs would be complete and the latter job extremely well respectively. Highly recommend this company A++++
I was so impressed with Jamie's work, after two years I was so worried I might not be able to find him again, so sent him and email, and he assured me if I need him again he would be available, now I can relax.