INNOVATIVE Custom Pool Remodels
Just like your home that may need a fresh coat of paint or a kitchen to be remodeled, your swimming pool may need a new look. At On The Spot Ultrasonic Leak Detection & Repair, we will transform your old pool into your backyard paradise. For example, your basic rectangular pool can have rock waterfalls, a spa spillover, a beach entry, and salt water system that is both financially friendly and without the harsh chemicals.
Remodeling your swimming pool can be as extensive as you desire. From a salt water conversion to just resurfacing your pool, you can do as much or as little as you like. On The Spot Ultrasonic Leak Detection & Repair invites you to explore all of the exciting and affordable options available to you when you consider enhancing your pool. Let our experts help you as you embark on your swimming pool remodeling adventure!
Below you will find just a few of the options available as you begin the design of your new swimming pool. Please contact On The Spot Ultrasonic Leak Detection & Repair so that one of our designers may explain your options and schedule your free consultation today.
Diamond Brite
Diamond Brite provides a beautiful pool finish that is both durable, and easy to maintain. Diamond Brite is made of quartz, that is one of the hardest and purest of minerals. Our experts at On The Spot Ultrasonic Leak Detection & Repair will combine these quartz aggregates with polymer-modified cement and non-fading Diamond Quartz to create a breath-taking array of colors.
Other benefits of Diamond Brite include its ability to withstand even the harshest of pool chemicals and most intense weather conditions. The pure clear colors of Diamond Brite won't fade, rust or rub off. Diamond Brite is both comfortable and slip resistant too. Diamond Brite is available in 17 luxurious colors which can be personalized to your own style.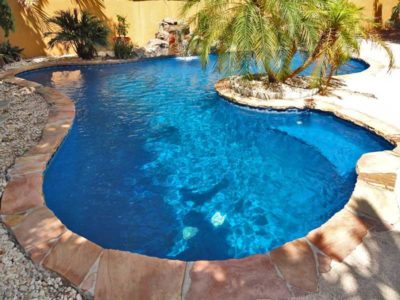 River Rock
As timelessly ancient as natural rocks themselves, River Rock offers the closest thing to truly natural. Our blending process at On The Spot Ultrasonic Leak Detection & Repair creates the most durable interior pool finish available today. Because the stones are naturally non-porous, algae is not present in an easy-to-clean River Rock pool. With a River Rock pool you can feel the rounded surfaces of a river rock and imagine millions of pebbles tumbled and turned until every edge is gently worn away. River Rock surfaces are never uncomfortable and are always consistently beautiful. River Rock will never erode or wear away. Our experts at On The Spot Ultrasonic Leak Detection & Repair apply a unique finish that will remain even after years of exposure to nature's elements.
River Rock also offers a natural beauty that will blend with it's own environment. You can now replace steps with slopes and sharp angles which become contoured designs that result in the natural elegance you have only dreamed of. There are six different colors in the River Rock Natures Collection to choose from that each offer their own spectacular effect. You may also design your own personalized color to accentuate your landscape.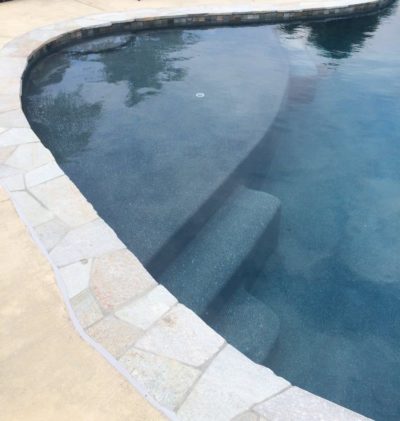 Pebble Tec
Pebble Tec offers the most luxurious natural pool within your imagination. Pebble Tec is uniquely inspired by brilliant riverbeds and spotless beaches. You can swim in a spectacular beauty of a fantastic lagoon, or indulge your senses in a pool resembling an ancient Roman spa. Pebble Tec offers a superior quality pool finish with unlimited design opportunities that include waterfalls, boulders and beach entries which elevate your vision of a swimming pool to totally new levels of value, tranquility and beauty.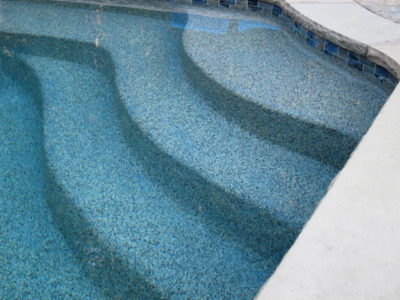 Sheer Descents, Cascades and Waterfalls
Water, water and more water. Endless rock waterfalls, beautifully elegant fountains, spa spillovers, and sheer water features can transform your pool from okay to WOW! A grotto might be especially romantic if it were hidden by a sheer of free-flowing water fall and fountains which splash along the perimeter and could add the perfect touch to an already fabulous pool.
Rock features and waterfalls are the perfect complement to a free form pool. Graceful sheer water features bring elegance to a new level. Create intriguing designs with spas, fountains, and rocks all with sheer water smoothly gliding into the water. Fountains have always been a truly incredible pool feature; the negative edge will make your pool the envy of your friends and neighbors. Utilizing an intriguing optical illusion, your pool will appear to extend into the surrounding landscape without boundaries. This is an exceptional feature, especially for pools with a great view!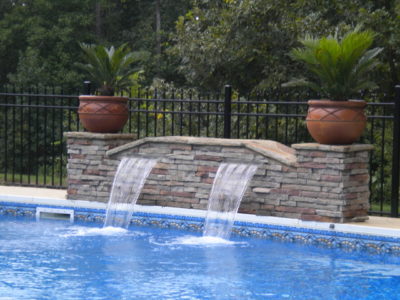 Tile or Mosaics
Tile has always been a favorite choice for pool and spa surfaces. Nothing compares to the classic elegance of a fully tiled spa. Mosaic tile now comes in an unimaginable array of colors. Our experts at On The Spot Ultrasonic Leak Detection & Repair will assist you to create a unique inlay or spa design with style. New water line tile will also make the edges of your pool look crisp and clean again. The options are endless and you won't regret taking the extra time to add this unique feature! Tile and mosaics both improve your pool and turn your pool's landscape into a work of art.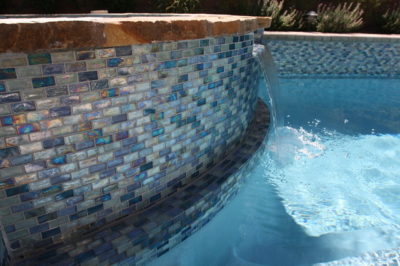 Acid Wash
Acid washing is also referred to as "drain & clean". Acid washing becomes imperative if the pool has turned black. This usually occurs if the winterizing process has not been done on a routine basis or if the pool has become stagnant for an extended period of time.
A general rule of thumb to follow is that if you can not see the bottom of the pool after cleaning with chemicals and draining, then acid washing becomes the most effective restoration method.
For obvious reasons, it is not advised to make acid-washing an annual procedure in that over time acid washing actually accelerates the need for re-plastering. Because the acid is a dangerous substance only carefully trained technicians should be performing an acid wash procedure. At On The Spot Ultrasonic Leak Detection & Repair, you can be rest assured that our technicians are expertly trained and will take every precaution to protect you, your pool and themselves.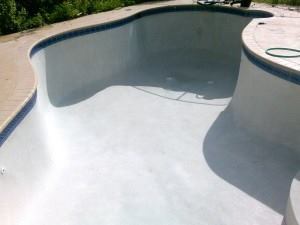 Relax and We'll Take Care of Your Pool
When it comes to leak detection, repairs, and remodeling,
you can depend on the professionals at On the Spot!
Excellent company to use for leak detection and on the spot repairs.They are very efficient and know their job very well. Candy and Casey did a spot on good job of setting up a time when repairs would be complete and the latter job extremely well respectively. Highly recommend this company A++++
I was so impressed with Jamie's work, after two years I was so worried I might not be able to find him again, so sent him and email, and he assured me if I need him again he would be available, now I can relax.